Crypto.com launches Cronos mainnet & native toke hitted ATH
Crypto.com launched Mainnet for its native token CRO. CRO token hit an all-time high with $0.4. 
Crypto.com is a popular crypto wallet & exchange of the crypto market and this crypto company is active in the crypto industry to push the use of its crypto products & services through high-level advertisement in the sports field. 
On 8th November, Crypto.com launched Ethereum Virtual Machine (EVM) compatible network Cronos. This EVM compatible Cronos network aimed to bring scalability in the DeFi projects. 
This initiative of crypto.com is to provide developers with easy to instantly port apps from Ethereum and EVM-compatible chains. So here, Crypto.com' Cosmos EVM chain will support the build of DeFi, non-fungible tokens (NFTs), and the Metaverse.
"With low cost, high throughput, fast finality, and built-in interoperability, Cronos is poised to bring decentralized applications to the 10M+ user base of the Crypto.com ecosystem and beyond", STATMENT READ
Cosmos software has a built-in interoperability protocol. It's enabled by the Inter-Blockchain Communications (IBC) protocol and bridges the Crypto.org chain and other IBC-enabled chains. So, crypto.com will support a cross-chain integration facility also. 
The newly launched Mainnet network will use the CRO token ( Native token of crypto.com) to spend on the network fees and also to power the on-chain transactions. 
Due to this new initiative of Crypto.com with the mainnet launch, CRO pumped by 110% within one month. And hit all-an time high with a price of around $0.4.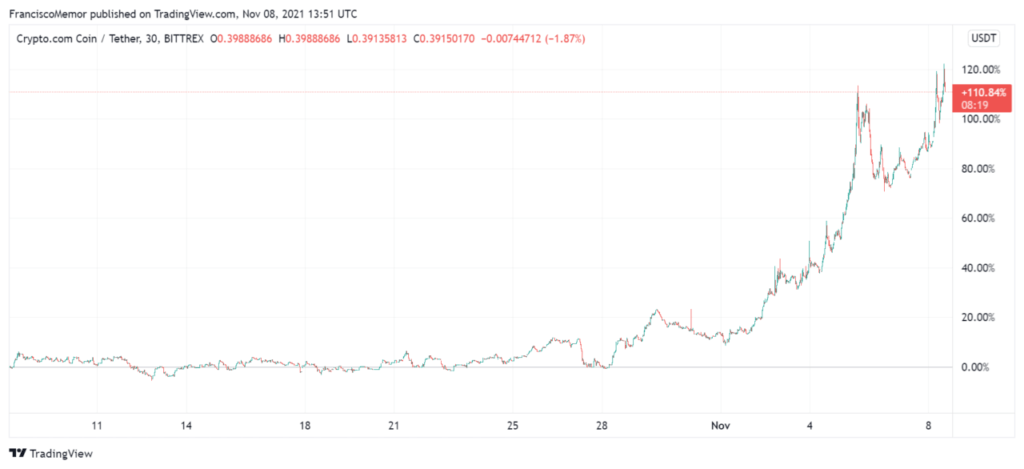 As per the announcement, Cronos will use the CRC-20 protocol and this will allow the Ethereum blockchain-based tokens or other EVM based networks to easily port on the CRC-20 network. For such initiatives, Crypto.com established partnerships with the DeFi Wallet, Nabox, Trust Wallet, and MetaMask.
Read also: BlockFi has filed for spot bitcoin exchange-traded fund (ETF)