After the successful launch of the Ethereum "Merge" on the Kiln testnet on March 15, the community is now excited about the imminent shift to proof-of-stake (PoS). The number of internet queries for the phrase "Ethereum Merge" is now at all-time highs, as per Google Trends.
Ethereum Sentiment Moons
Analyzing Google Trends data is one of the ways traders keep an eye on emerging trends and sector rotations in the cryptoverse.
Lucas Outumuro, the head of research at IntotheBlock, pointed out that searches for "Ethereum Merge" have gone through the roof, which is an indication that general interest and optimism around ethereum (ETH) is building up. The keyword received a perfect Google Trends score of 100 — which means maximum relative interest.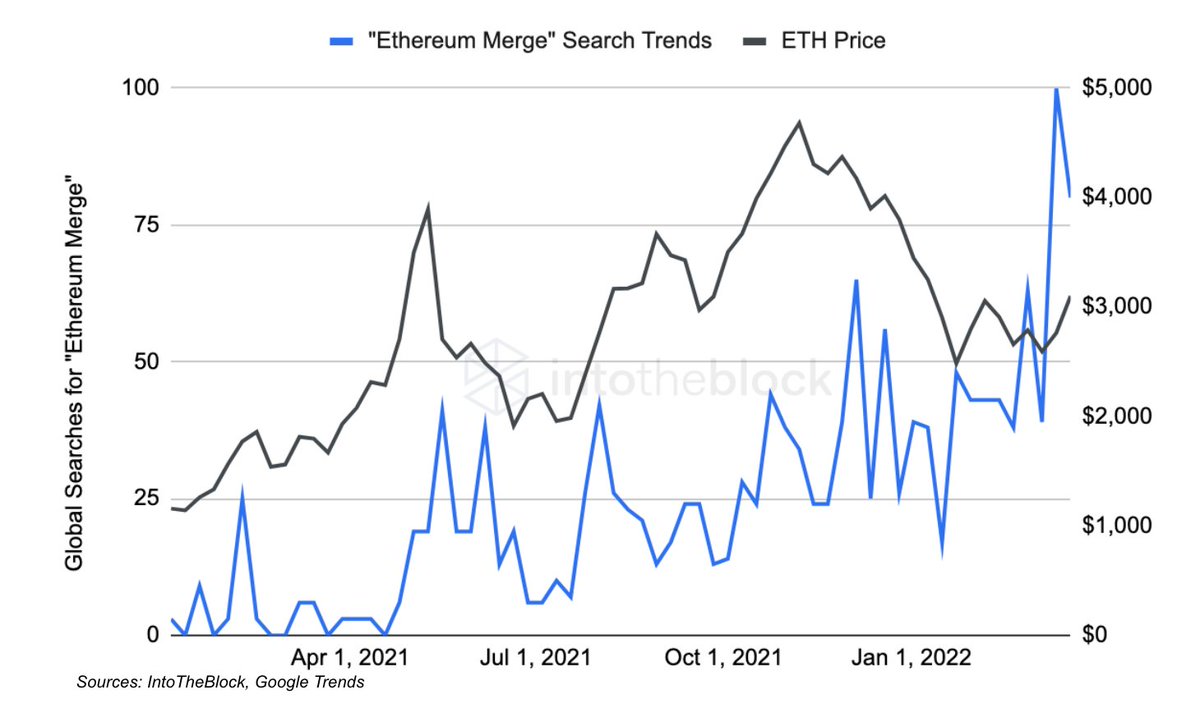 In terms of region, Canada ranks first in the world for "Ethereum Merge" Google searches, followed by Australia and the United States. The spiking interest could in itself trigger a new parabolic bullish phase for Ether thanks to the curiosity turning into buy-ins.
2022 Is A Make-or-Break Takeoff Year For Ethereum
All eyes are on the upcoming protocol update for Ethereum after the completion of the Kiln testnet.
Ethereum has infamously been known for delays over the years, but for the very first time, it feels like the tentative Q2 launch date might actually be achieved. It's believed that proof-of-stake will make ethereum more scalable and reduce its energy consumption by 99.95%. This will subsequently attract more institutional investors into the Ethereum ecosystem as all the concerns around the energy consumption of mining will be finally laid to rest.
Enthusiasts believe the Merge event is not priced in yet and could help ETH explode in price once it is shipped in June. However, the transition to the consensus layer (previously known as Ethereum 2.0) must happen in the same timeframe predicted by developers as any more delays may lead to the market losing faith in ETH.
All in all, 2022 is projected to be Ethereum's most critical year yet. ETH is currently changing hands at $3,143 as of publication time, up 0.87% over 24 hours. Assuming all goes well for the smart contracts big gun and the shift to PoS happens without a hitch, ETH could hit $4000-$5000 by the end of the year, according to Bloomberg strategist Mike McGlone.