New York City Mayor Will Take First 3 Paychecks in Bitcoin
Eric Adams- New York City Mayor- became the third US politician to accept 3 paychecks in Bitcoin. 
In the present time, a trend is going on and getting a better hype. After the initiative of Miami's Mayor, a total of three politicians entered the bitcoin salary challenge. 
Recently, Crypto influencer Anthony Pompliano tweeted that "Which US politicians will be the first to accept salaries in Bitcoin". 
In response to Anthony Pompliano, Miami's Mayor became the first to jump into bItcoin salary. 
But now, Eric Adams- New York Mayor- became the fourth politician to accept salary in Bitcoin. But here Eric will accept only three paychecks, obviously a part of the limitation of government rules, which doesn't allow Bitcoin as a legal tender except for the Bitcoin law of Central American country El Salvador. 
To announce the decision of salary in Bitcoin, Eric tweeted on Twitter  and wrote
 "In New York, we always go big, so I'm going to take my first three paychecks in bitcoin when I become mayor.  NYC it's going to be the centre of the cryptocurrency industry and other fast-growing innovative industries."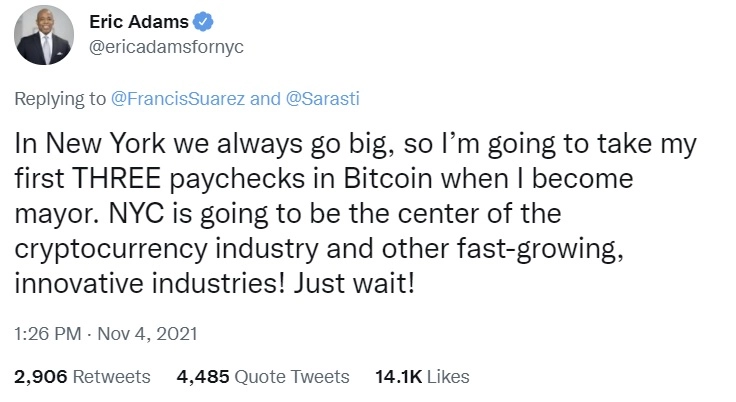 Here it is worth it to note, Eric indirectly asked the support from Their citizens to support him to get a better crypto ecosystem. Well as a crypto inclined media, we also expect that Eric would get better support and also he would get better success to make NYC a crypto hub. 
The tweet of Eric attracted the whole crypto industry on Twitter. Even big crypto companies' heads responded to the initiative and bitcoin-friendly behaviour. 
 Mike Novogratz, the CEO of Galax digital responded to Eric' tweet and wrote 
"I love NY."
Before this, in June, Eric Adam promised his Supporters that he will support the crypto industry and promised that they will make NYC a crypto hub with a fully digitised city where people will see self-driving cars, cyber city centres, drones and bitcoin. 
Well, no matter whether it is a part of politics or not, but here we are getting crypto-friendly politicians and hopefully, we will get a better crypto ecosystem.
Read also: ECB weighs in favour of incorporating a digital euro: Fabio Panetta